Racehorse Training
As well as the usual track work at Murwillmbah racecourse, Daiki often applies his equestrian riding skills to racehorse training. By working on their body core muscles, they become more balanced and use their body more sufficiently, which helps them at the peak of their performance in the race. It also helps them to be submissive, keeping their mind on the job to listen to the jockey's commands in the races.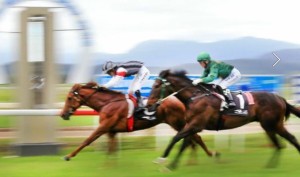 We also have the natural up hills for the fitness work and Cabarita beach is only 5 minutes away from the stable where horses are taken for relaxation time.
If you have ever experienced your racehorse living in the town and stabled 24/7 and if he/she doesn't look enthusiastic and isn't performing well, maybe give it a try for something different. Horses are a bit like us humans, they may just need a little more space in their mind to pull out their hidden talent.
If you would like to discuss further, please contact Daiki on 0422 583 339 or email to: japanoz@hotmail.com