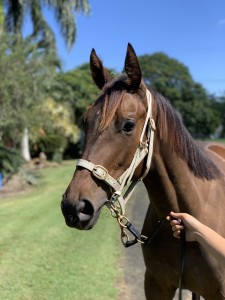 This tall long legged elegant filly is by the sensational son of Deep Impact,  Mikki Isle out of the 5 times winner and a successful producer as a broodmare Italian Romance.
Mikki Isle was the Champion Sprinter/Miler in Japan including winning G1 Mile Championship. His oldest progenies are 2yo and already won 2 Group races. With the cross of Deep Impact, Sunday Silence and Danehill on the dam side he's going to be a new star stallion in Australia very soon.
The dam Italian Romance won 5 races between 900-1100m showed a lot of speed and she's surely has been passing her talent onto her foals, producing 4 multiple winners including 7 times winner Italian Son and 6 times winner Dynamic Dynasty and Mr Grumpy.
This filly has already been broken in and showing a lot of talent and desire to run. Although she's a November foal, she could be an early 2yo type. Her pedigree indicates that she's a true sprinter, specially the double cross of Danehill and the the speed inherited from the sire and the dam.
She'll be offered on a lease share, which makes it affordable to buy into the quality filly and get the exactly same privilege as you would  own her in her racing career.
She's offered for 3 years* lease which includes:
All the upkeep fee until 31/5/21
Mortality insurance until 31/3/22
BOBS registration
On going cost from 1/6/21 for 5% is $55/wK
Check out her video https://youtu.be/LnF6MKu1KhY
For more information contact Daiki 0422583339 japanoz@hotmail.com
*The term may end earlier depending on the horse's physical conditions and performances.